Sports
Inside the long-awaited return of Jon Jones and his quest for heavyweight glory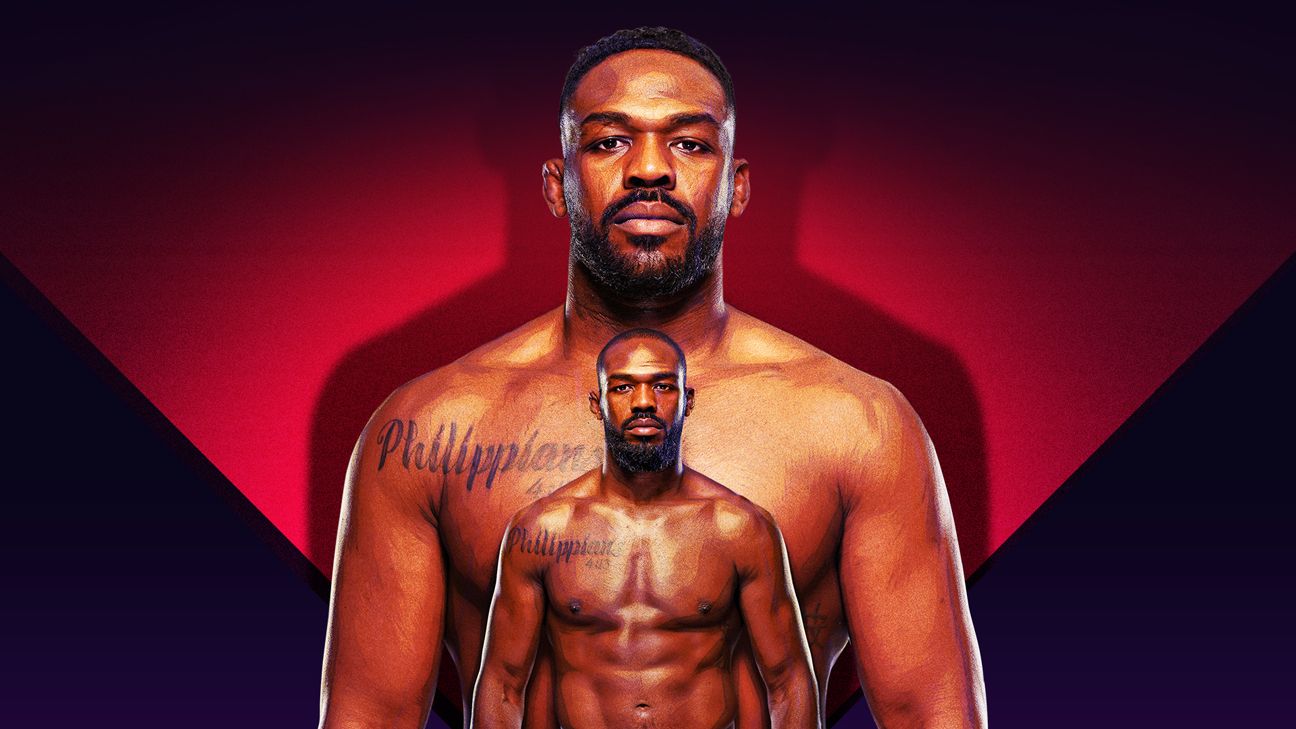 ALBUQUERQUE, N.M. — JON JONES was giddy entering the Zia Strength Systems gym one afternoon last summer. Jones could not wait to tell Jordan Chavez, his strength and conditioning coach, the good news.
Jones had fought the entirety of his accolade-filled career at light heavyweight — 205 pounds. Before cutting to that weight for competition, the man regarded by many as the greatest MMA fighter ever, walked around at about 230.
On that day, though, Jones was over the moon, telling Chavez he woke up weighing 263 pounds, two pounds from the heavyweight limit.
"He was pumped," Chavez told ESPN. "Shows me a picture and everything of the scale. And I was like, 'Alright, well, we're right where you wanted to be.'"
Since relinquishing the UFC light heavyweight title in August 2020, Jones has been slowly, steadily bulking up to take on his next challenge: becoming the world's heavyweight champion. Nearly three years and more than 30 pounds later, the time has finally come.
Jones will fight Ciryl Gane for the vacant UFC heavyweight title in the main event of UFC 285 on Saturday in Las Vegas (10 p.m. ET on ESPN+ PPV). With a victory, Jones would become just the eighth fighter in UFC history to win undisputed titles in two weight classes, adding to a list of achievements that frankly overshadows even the greatest of his peers.
While many fighters preparing for a title shot would bask in the pre-event limelight, there has been an air of mystery in Jones' camp. He has done very few interviews and posted even fewer training videos on social media. Before fight week, no photos of his new physique surfaced online. He and his coaches have adopted a "show, don't tell" attitude.
But those close to Jones told ESPN that the past two-plus years have consisted of him consuming 5,000 calories per day, working his way to deadlifting more than 600 pounds and adapting the tenets of his MMA attributes — speed, creativity and cardio — to a significantly heavier body.
Jones has already accomplished more than any other fighter in MMA history. He has the longest unbeaten streak (18) and most title defenses (11, tied with Demetrious Johnson) in UFC. Jones has the most victories in UFC title fights (14), and his only career loss was a controversial disqualification in a 2009 match he was clearly dominating versus Matt Hamill.
"He is the Michael Jordan, the LeBron James of mixed martial arts," said Henry Cejudo, one of Jones' coaches and a former UFC double champion himself.
Jones became the youngest fighter to hold a UFC title when he was 23, and he never dropped a championship in the cage. So why now, at age 35, is Jones seeking another crown and more glory when he's already lapped the field statistically?
"I wanted to challenge myself," Jones said in an ESPN video. "I wanted to dare to be great and do something that I promised to the fans a long time ago. And now we're here."
---
JONES AND UFC president Dana White did an online question-and-answer session with fans in October 2012. White asked him about a potential move to heavyweight, which the UFC promoter had not necessarily been in favor of before that moment.
"I'll definitely move up to heavyweight," Jones said. "But it'll probably be around 2013. Maybe at the end of 2013."
The idea of a change in weight class has been on Jones' mind for over a decade. It just never really made sense until now. Jones was dominating the UFC light heavyweight division, beating seven men who were past or future UFC champions between 2011 and 2015. After that, he had a trio of suspensions for a felony hit-and-run arrest and a pair of doping violations (despite agencies and regulatory bodies clearing him of intentional cheating).
Jones was reinstated after 15 months from the second doping suspension to win back the UFC light heavyweight belt in a bout with Alexander Gustafsson in 2018. He reeled off three more wins after that to push his record to 26-1. The competition at 205 pounds was closing the distance, though. Or maybe Jones just wasn't as motivated for bouts against Thiago Santos and Dominick Reyes, the latter his most recent bout at UFC 247 on Feb. 8, 2020.
"I just felt like I got to this place where I felt like I wasn't losing to any of these guys," Jones said in a video interview with ESPN last month. "I felt like the fans were lacking interest. I was starting to fight guys who were relatively unknown to the general public and I just wanted to do something that intimidated me, something that got me up in the morning."
Shortly after a narrow unanimous decision win over Reyes (watch this fight on ESPN+), Jones decided he would finally make his move. He eyed fights with Stipe Miocic, the most successful UFC heavyweight of all time, and terrifying knockout artist Francis Ngannou. After a few months of haggling with the UFC over how much he'd make for a big heavyweight fight — including asking for what "Deontay Wilder was paid," per Dana White — Jones announced in August 2020 that he would be vacating his UFC light heavyweight championship and officially entered the heavyweight division. Jones later hired former Golden Boy boxing head Richard Schaefer as an adviser to lead future contract negotiations.
At the time, Jones made it known that it would not be a quick process. He would be patient and pack on the pounds gradually before entering the Octagon against men who can tip the scales at around 265 pounds, the heavyweight maximum. That idea was underscored when he watched Gustafsson, one of his old 205-pound rivals, make his UFC heavyweight debut in the summer of 2020 against former champ Fabricio Werdum. Gustafsson lost via submission in the first round.
"I don't think [Gustafsson] did it the right way," Jones told ESPN in a December 2020 interview. "Just because you gain some extra pounds doesn't mean you're ready to compete against these boys that were born that way. You've got to really take your time, find your body, find your feet, your new speed, your new rhythm. And then go up there and play the game."
---
ONCE JONES RELINQUISHED the light heavyweight title, he and his team went to work. Greg Jackson, Jones' head coach for 14 years, started studying tape on the champion and top contenders at heavyweight: Miocic (who held the belt then), Ngannou, Gane and Curtis Blaydes. Jackson also said he watched British prospect Tom Aspinall, because he believed Aspinall could be at the top of the division when Jones was ready to compete at the new weight.
"A lot of that is just prep work," Jackson said. "It was just ideas I was thinking about it. … We were just seeing how it went. I just think he needed a new challenge, something to get him up a little more."
Initially, Chavez said, the goal was for the 6-foot-4 Jones to go into his first heavyweight training camp at 245 pounds. But by the time 2021 started, Jones was already at 240. The eating and powerlifting continued, though, as Jones trained with Jackson, striking coach Brandon Gibson and others.
That was a departure from years past when Jones didn't train much, if at all, in between fights. Now, his coaches have said it feels almost like a two-plus-year training camp for UFC 285.
"I would allow myself to get fat," Jones said in December 2020. "To train now with no fight scheduled, it's different. It shows maturity and it shows how much I really want to do this. I'm trying to change my whole makeup. There are some guys that are way bigger than me up there. I'm just constantly pushing. … I have to commit my whole life to this project. I'm committed."
Jones ate a steady diet of chicken, ground beef and steak for over two years. Carbohydrates were essential, too. Jones said eating rice for breakfast was unusual, and all the food consumption felt "tedious" and "like work."
"Biggest thing with the amount of [training] output he's giving on a given day, his carb intake is significantly high versus [what] most people understand, 'Oh, stay away from carbs, stay away from carbs,'" Chavez said. "I'm like, 'No, for what you're doing, you need all the carbs you can get your hands on. I was like, 'When you're full, you probably still need another serving.'"
In addition to his MMA training, Jones would come to Zia Strength Systems four days per week to lift. Chavez said he used a conjugate method — mainly variations of deadlifting, squats and bench press — with Jones to build strength and, just as significantly, endurance.
Chavez said that Jones maxed out in the deadlift at 645 pounds, but the coach was more concerned with how many reps he could do at a high weight to achieve that endurance. Chavez said Jones can do 15 reps of 500 pounds in the deadlift. Jones got up to nearly 400 pounds on the bench, an impressive number for someone with long arms — an 84-inch reach. But more important for Chavez was that Jones could bench 315 pounds five times.
"I know very few individuals that have T-Rex arms that could do that, much less someone that has arms that are longer than yours and mine put together to be able to do so," said Chavez, who has been working with Jones for eight years.
Jones' squat got close to 600 pounds, Chavez said. But it was his five-plus reps at 500 pounds in the squat that the coach wanted more than the bigger number.
"The amount of his absolute strength is through the roof, but his strength endurance even blows the old him out of the water," Chavez said.
Once Jones weighed into the 260s last summer, he tapered off the bulking phase of his metamorphosis. Jones said he didn't like how he moved while being that heavy, necessitating him to shed those excess pounds. Chavez said Jones would likely enter the cage Saturday at 250 pounds.
"I feel like it's an ideal weight," Jones said. "I have my endurance. I have my speed, explosiveness. I still jump high and shoot on takedowns very quickly. Whatever I got to do, you know? I feel good. I feel like a heightened version of my light heavyweight self."
---
JONES HAD MORE outside-the-cage issues in September 2021. Just hours after his iconic 2013 fight with Gustafsson was inducted into the UFC Hall of Fame, Jones was arrested in Las Vegas on a count of domestic battery, a misdemeanor, and one count of tampering with a police vehicle, a felony. The domestic battery charge against Jones was dropped, but Jones took a deal and pleaded "nolo contendre," or no contest, to misdemeanor tampering with a police vehicle.
Jones has yet to comment directly about the situation. A few weeks after the incident, he posted on Instagram that he has "way too much trauma to consume alcohol, my brain simply can't handle it anymore" and "I will leave alcohol in my past forever."
The arrest caused Jones to be thrown out of his JacksonWink MMA gym by co-head coach Mike Winkeljohn. Jackson, Gibson and others continued to train Jones at an affiliate gym across town, Jackson's MMA Acoma.
"I'm still hoping everybody will hug and make up and everybody will get back together again," Jackson said. "A naive hope maybe, but one I still have. Jon is my friend. So, your friends make mistakes, they screw up. I certainly have screwed up. But that doesn't mean you turn your back on your friends."
Jones also made several trips in 2022 to Fight Ready MMA in Scottsdale, Arizona, to train with the likes of Cejudo, his longtime coach Eric Albarracin, Santino DeFranco and Eddie Cha.
"These last three years, this is what Jon needed," Cejudo said. "He didn't need to fight for a championship. He needed a resurrection to rekindle his love for martial arts. It gets boring when you win 14 consecutive title [fights]. Nobody in history has done that. He needed a break and then the biggest challenge he could get and that's why he's at heavyweight."
In a video Cejudo posted on Instagram last week, Jones thanked him and the Fight Ready coaches for taking him in.
"I had a little time where I was in a limbo," Jones told Cejudo and Albarracin. "When it wasn't cool to be associated with me, you guys were some of the first people to open the door and let me know that I always have a home in Arizona. And sincerely that means a lot to me. I'll never forget it."
---
UFC VETERAN HEAVYWEIGHT Walt Harris was sparring with Jones at Jackson's MMA Acoma two weeks ago and got cracked with a big right hand. Jones apologized, but Harris shook it off and continued. Jones has a wrestling background and a fearsome kicking game. He's never been known for his boxing and has few knockouts with his hands. That might be changing, Harris said.
"He's definitely got the pop in his hands," Harris said. "And he has the ability to stay in the pocket and not get hit, which is very, very, very impressive. He throws the right punches at the right time. He doesn't waste a lot of punches."
No video of that sequence between Jones and Harris will be posted, at least not until after the fight. What Jones looks like at 250 pounds and how he moves were not made public until fight week. Jackson said this Jones is an "improved" version, though he won't go into detail on what that means, except for joking that Jones has kept his creativity and dynamic movements while weighing "7,000 pounds."
Heavyweight Jon Jones got some moves 😅 #UFC285

(via @thebigticket205) pic.twitter.com/e01fDkvwFV

— ESPN MMA (@espnmma) February 15, 2023
The lack of information, video or otherwise, is by design, Jones said.
"I'm a fan of the book 'The Art of War' and Sun Tzu talks about making your plans as dark as the night and when you strike, you strike like the thunderbolt," Jones said. "And that's my plan. My plan is to let my work speak for itself."
Jones brought Harris, a southpaw, into his camp to somewhat mimic Gane. UFC veterans Maurice Greene and Yorgan DeCastro have also been sparring partners for Jones. Greene has been a Jones training partner for years.
Harris has experience against high-level heavyweights in the UFC and believes Jones "is the best in this division right now." Cardio was always a key to Jones' game at light heavyweight and Harris said that has not changed.
"Oh my God," Harris said. "It's ridiculous, bro. Like, he'll do five, six hard rounds and he wants to do two or three more. He doesn't stop. He gets stronger the longer it goes, which is uncanny for anybody, let alone for a heavyweight to be able to do that."
Jones's camp believes he is significantly stronger to fit the weight class, too. Chavez said he has seen Jones "ragdoll" 300-pound fighters in training. Jackson said grappling with Jones now is like "trying to dance around an iron pole." Jones said now he has a "100% success rate" in taking training partners down, which he did not have at light heavyweight.
Jones said he watched Gane's loss to Ngannou at UFC 280 in January 2022 and had an "overwhelming feeling" that he was going to become the UFC heavyweight champion. Ngannou has since departed the UFC, scrapping the potential for a huge money fight. But Jones remains undeterred.
Moving up to heavyweight was never about the opponent. Ngannou had not even debuted as a pro fighter when Jones first started talking about fighting as a heavyweight. It's a move of more than a decade and almost three years of transformation in the making.
"It's the most prestigious weight class," Jones said. "It means the most knowing that you're one of the baddest men walking the planet. It keeps me really excited and I'm just really glad to be here, living my destiny and putting all my years of experience and all the years of hard work to the ultimate test."