Sports
Holder: Every team apart from big three barely playing any Tests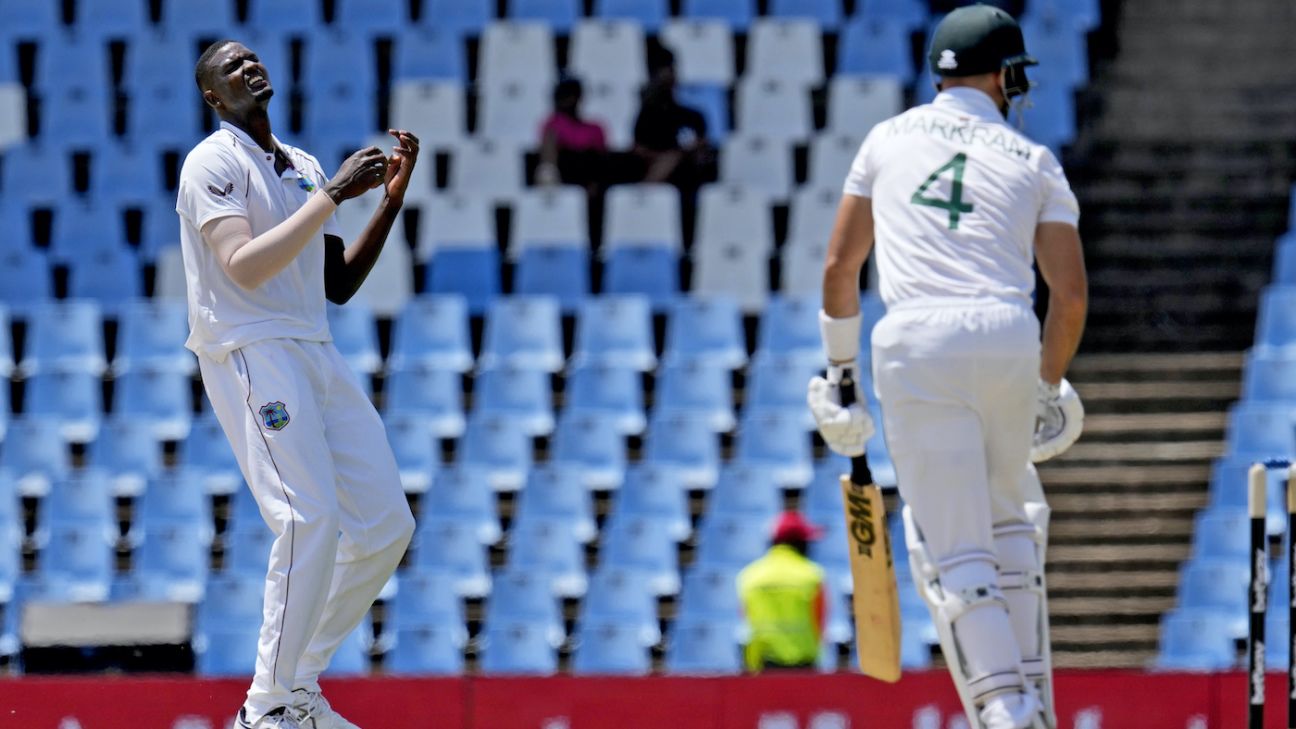 Jason Holder
became the second West Indies player after Sir
Garry Sobers
to take 150 Test wickets and score 2500 runs but does not think he will be able to break Sobers' record because of the dearth of Test cricket facing teams like West Indies.
"The way world cricket is going now, apart from the big three, every team is barely playing any Test cricket," Holder said after the second day's play between
South Africa and West Indies
in Centurion. "We average six to eight Test matches over the last three years. This year we've got six, next year around six. You have to be in the XI for every single game to get anywhere close to 100 Tests."
Holder is playing his 61st Test and with West Indies only due to play India (two Tests at home in July) this year, and 24 more Tests in the current FTP, even if he plays in all of them, he will not catch up with Sobers' 93. Nor is
Kraigg Brathwaite
, who debuted in May 2011 and has 83 Tests, likely to catch up with
Joe Root
, who started playing Tests in December 2012 and already has 129 caps to his name.
"We've seen Kraigg Braithwaite, for example, over the years he still hasn't gotten to a hundred [caps]," Holder said. "Kriagg was playing long before Joe Root but Joe Root has probably gone 130 Tests. It just shows you the amount of cricket England plays in comparison to us."
Despite his concerns over the calendar, Holder was resigned to West Indies' fate. "It's beyond our control. We've just got to deal with what's in front of us and try to make the most of it."
Like Holder, South Africa's
Anrich Nortje
, who took his fourth five-for in his 19th Test, on Wednesday at SuperSport Park, also does not think he will earn as many caps as some of his former countrymen.
"Playing four Tests in a year, you don't think much about it (milestones). You just think okay there is a Test match somewhere. I probably will never get to 50 Tests. That will take me another seven years. Some countries in the next few months, they play 20 games. It's hard," Nortje said. "You can't compare what the greats have done in the past, they played a lot of Test cricket. That's the main format. We play four games, eight games or ten games over two years. It's very limited and when we do get the opportunity, it's nice to come out and focus on what we have to do."
South Africa play fewer Tests than everyone other than Ireland and Zimbabwe in this FTP cycle (May 2022 to April 2027) and, after this West Indies series, only have one more Test in 2023 – against India at home. That leaves little opportunity for
Kagiso Rabada
, currently their
seventh-highest wicket-taker
on 270 wickets, to go past Jacques Kallis, who has 291, or even think about topping Dale Steyn's 439. It also leaves Nortje, on 69 wickets, unsure of when he may get to 100 but he admitted it's not something that keeps him up at night.
"I am not going to say I am dreaming about when I am going to get the next opportunity [to achieve a milestone]," Nortje said. "I'm just focusing on the cricket and when you get here [to a match] that's when the switch goes on."
Source link