Sports
Captaincy chaos and Waldrum ultimatums – Will Nigeria be ready for World Cup?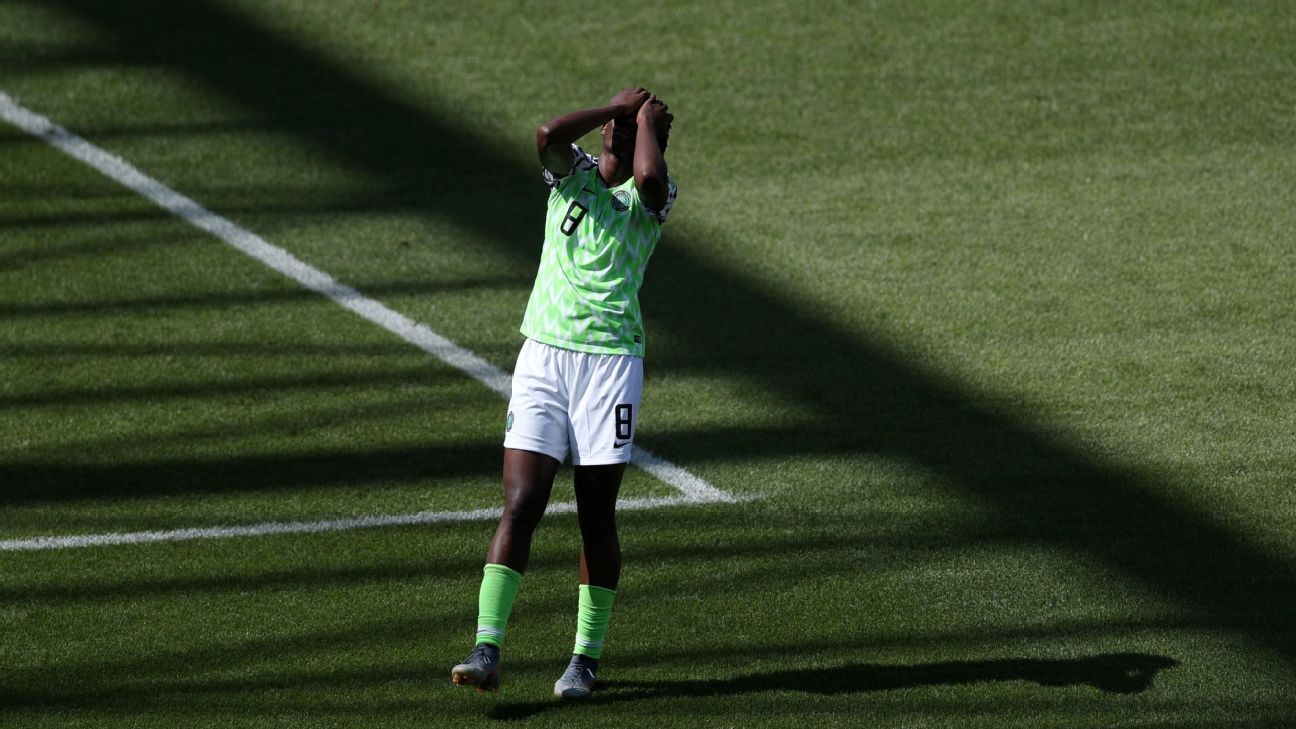 With barely five months to the 2023 FIFA Women's Cup, Nigeria coach Randy Waldrum is facing suffocating pressure after a series of poor results, and the dressing room is reportedly split in half between two players.
A new federation leadership, a now-former BFFs fight over the captain's armband, coaches revolting, and a friendly schedule that led to seven straight losses have all got Waldrum facing intense scrutiny from both his employers and fans.
A top NFF official told ESPN that the leadership is considering, among other things, asking the coach — who combines his role with that of being head coach of University of Pittsburgh Women's Soccer — to take a sabbatical from Pitt and focus on preparing the Super Falcons for the World Cup in July.
"The decision may be that Randy should take a sabbatical from his job in the US and concentrate on giving the team the best possible preparation ahead of the World Cup," said a top NFF source.
"Because we don't want to be disgraced at the World Cup."
It's obvious that there would be backlash over poor on-field results, but off-field drama, especially around star Barcelona striker Asisat Oshoala, has been a surprising twist in the tale of woe, and won't be easy to unravel before the trip to the Antipodes.
Players told ESPN that there is division within the squad, fractured along Oshoala and Onome Ebi fault lines. Both players, formerly close friends, fought a bitter battle for the captaincy, before Oshoala lost the armband to Ebi.
Players said that the team is now split, with players belonging to both camps. As a result, Oshoala's absence from a large chunk of the team's friendly games and tournaments has led to rumblings from 'other side' of the dressing room.
Oshoala has been on a blistering run of form for Barca in recent weeks, scoring three hat-tricks in six games, but was not part of the Nigeria team that played in the Revelations Cup in Mexico last month. She withdrew just days before the tournament began.
"She does not show up to play friendly matches, but when it she comes to tournaments, the coaches start her even though she does not play for Nigeria the same way she plays for her club," one player, who did not want to be named, said.
Players are not the only ones unhappy about Oshoala's absence. NFF officials and Waldrum himself have expressed worry, with the timing of her latest withdrawal from the Revelations Cup less than ideal.
"That did not leave us any time for the coach to call up a replacement," the official said.
Waldrum's off-field issues do not end there. He has also reportedly had serious disagreements with his local assistant coaches, who were hired by the NFF. Navigating that dynamic has proved to be problematic, but it is not something the coach is willing to discuss.
Of course, winning games would make most people more tolerant of discord, so seven straight losses have not helped. Since losing on penalties to Morocco at the WAFCON semifinals, Nigeria lost to Zambia, USA (twice), Japan, Mexico and Colombia. In that time, they have allowed 12 goals while scoring just two.
Waldrum finally saw his wards arrest that seven game losing skid when they beat Costa Rica 1-0 in their final game of the Revelations Cup, Esther Okoronkwo with the decisive goal that helped the Super Falcons finish third out of four teams.
Naturally, such an unprecedented series of torrid results for a team used to being the queens of Africa was bound to lead to social media voices calling stridently for the sack of the American coach before the World Cup.
But Waldrum has bristled at those calls and pushed back at the criticism, starting with defending the results, claiming they were inflicted by some of the world's top sides.
Waldrum told ESPN: "It's very difficult when you're playing the US twice and Canada twice and Japan. If you're only looking at results, people are going to say it's not working.
"But when you look at it from a perspective of building your team, I think we're seeing what they do against top level competition, so we can get to that final 11 that's actually going to be our team."
That is only one part of the picture however. Some of the losses were to African opposition, including a record-tying three losses at the WAFCON. Nigeria's failure not to win the African title, but worse, not even making it to the podium still stings.
Again, the American was not giving an inch, saying Nigeria are lagging behind because of a lack of investment in women's football compared to other nations.
Morocco, for instance, have invested in facilities, development and personnel and are reaping the rewards, including that big win over Nigeria, and seeing their clubs dominate in the newly-introduced CAF Women's Champions League.
"We can't let the other African countries invest more than we are investing," Waldrum said.
"It is one thing to go to World Cups, it is one thing to win African Cups, but if we want to be one of the top six or eight teams in the world, there's a big set of strides we have to make to get to that point."
Waldrum's tactics, his player selection, and playing players out of position have been picked apart time and again, especially following the losses in Mexico, where centreback Ashleigh Plumper was played at left back, then midfield.
The coach explained his thinking: "I think people have to understand one thing. In order for us to be successful at the World Cup, we need to find a way to get the best 11 players on the field, that's the objective of any team.
"I've heard the criticism as well about some players playing out of position, but you have to understand that we have to manage our personnel optimally.
"Just using the right wing position for an example, we have Francisca Ordega that plays there for her club, we have Toni Payne that plays there for her club, we have Rasheedat Ali that plays there for her club, Michelle Alozie also plays there for her club.
"So if we don't try to look at other positions for those players, then only one of those players are going to play and the rest are either going to sit out or they're not even going to make a squad because we're certainly not going to pick seven right wingers for a World Cup squad.
"We have five good central defenders right now. So I took a look at Ashley Plumptre in holding midfield spot because of the similarity of those two positions, just to see I'm thinking ahead. If that's something that she could play in order to get our best 11 on the field."
Waldrum's final preparations start with taking part in the Turkish Cup tournament this April, which is expected to provide a proper gauge to the strength of the side ahead of the World Cup, as well as an opportunity to resolve most if not all of the issues plaguing the team.
Source link